GOO3D enables the creation and display of interactive 3D models on any standard web browser without requiring extra 3D graphics Hardware, Software and/or rendering.
The Web Site enable users to upload 3D models as well as to create 3D models from Images or Drawings from Goo3D Application.
Download the created Interactive Flash 3D Model, Feel the 3D on- line Interactive experience.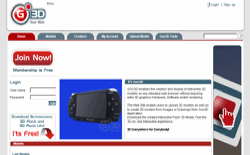 LINK: http://www.goo3d.com/