BlueSwarm.org
allows you to easily keep up with what your friends are doing all over the web.
If you're like most people you have user accounts for multiple services on the web. You might have a del.icio.us account to manage your bookmarks, a digg.com account to track your diggs and maybe a youtube.com account for all your videos. Wouldn't it be nice to have all of those content items in one convenient place? So when you want to share your web presence with your friends all you have to do is give them one place to look.
That's what we have attempted to create. BlueSwarm.org is your one stop site to gather all your different services in one place so you or your friends can get an idea of what you find intersting on the web, all in one place.
Since BlueSwarm.org pulls the information that you already have on all the other services you are already using it's a breeze to sign up. And then just keep doing what you've always been doing and as you digg, tag or upload using your favorite service, your BlueSwarm.org page will update automatically.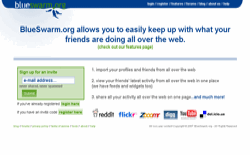 LINk:
http://www.blueswarm.org